3 min read
We enter the field of cobots for healthcare industries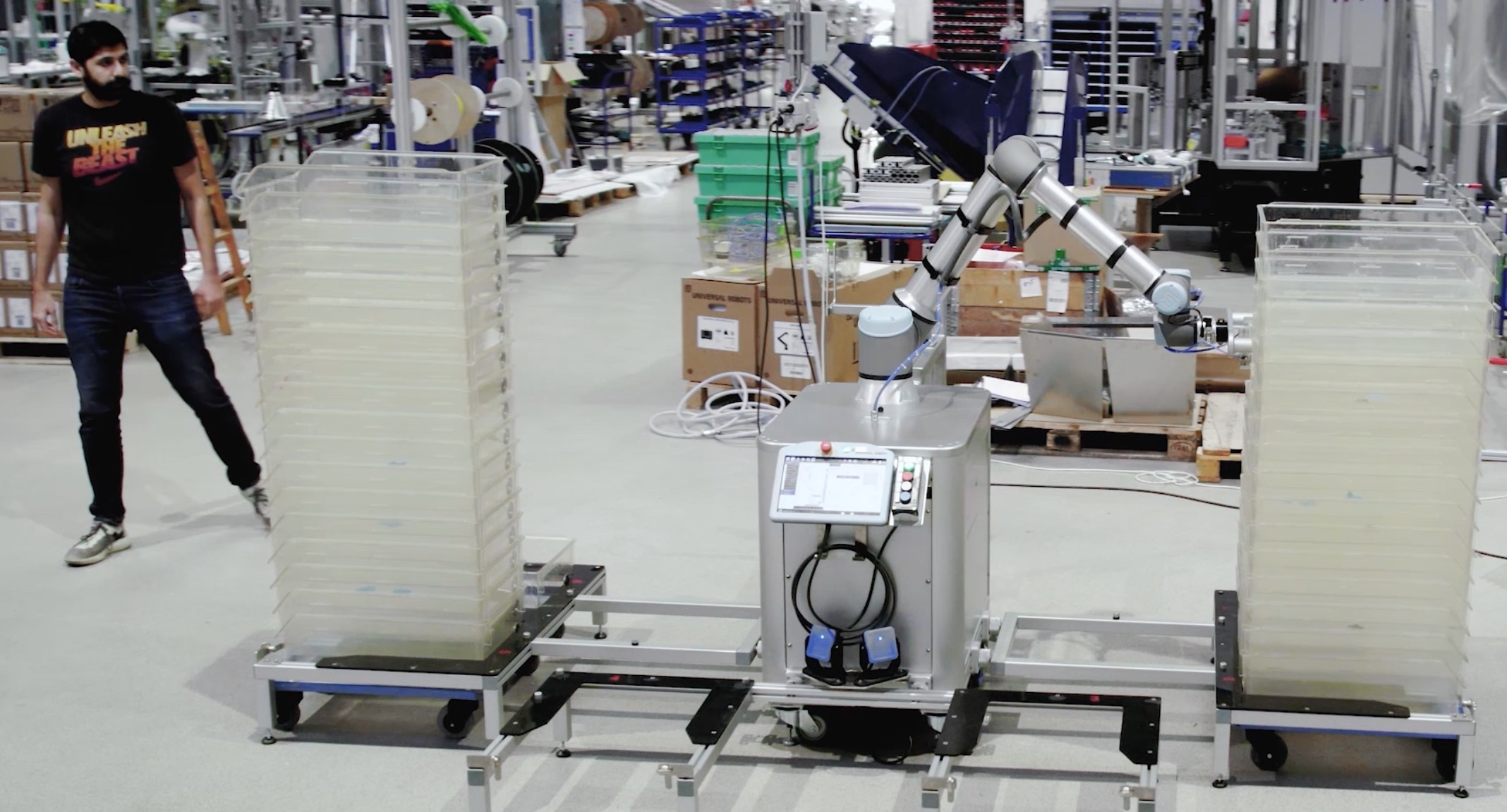 Two flexible and configurable PJM robots are easing a heavy workload for their human colleagues at one of Denmark's largest pharmaceutical companies, moving boxes with waste to and from a washing tunnel, hour after hour.
In this blog post: Collaborative robots are common in many industries but have yet to show their potential in healthcare industries. PJM has met the challenge with two new PJM robots designed to comply with hygiene and safety standards and setting operators free to do more value-creating work.
Imagine a robot coming towards you, swinging its arm close to your face. Not a very comfortable prospect and not a realistic one either. Cobots work freely, side by side with humans, so they must learn to take care!
Customization
Collaborative robots pose additional challenges compared with more standard industrial robots. Avoiding dangerous interactions with humans is just one of them, says Head of Design & Engineering, John Bo Jakobsen, PJM.
"We have a lot of experience with industrial robots, and there are many good standard solutions on the market. But customization is a key to success when dealing with cobots, especially in healthcare and pharmaceutical companies," he states.
The goal for PJM has been to create a flexible solution built on top of a standard robot cell, in this case from Universal Robots.
The cobot can be easily configured to perform other tasks by just redesigning the gripping tools and reprogramming the software.
"This is a very cost-effective solution because we avoid starting all over with the design when we begin a new project," says John Bo Jakobsen.
He adds that the acquisition of PJM by BILA Group was a big asset for the project as the PJM team gained access to BILA experts in robot technology.
Safety
In this customer use case, the two cobots lift and carry stacks of heavy boxes filled with waste which were formerly handled by two human operators.
One cobot fetches, empties, and delivers the boxes to one end of a washing tunnel. The other fetches and stacks the clean boxes for reuse at the other end.
To meet safety requirements, they have been provided with radar sensors that detect movement. "Feeling" a human close by, the cobot automatically slows down and then again accelerates to optimal speed when all is clear.
Radar sensors were chosen as detectors because of their ability to register movement through the transparent plastic boxes that are stacked beside the robot, so that humans standing behind the boxes are not hidden.
Hygiene
Complying with Good Hygienic Design Principles for Pharmaceutical Manufacturing the cobots meet requirements in the healthcare industries, where materials must be resistant to corrosives and surfaces easy to clean. These requirements are not met in many existing industrial cobot cells
"The PJM cobots have a pleasant appearance with round parts, even lines and smooth surfaces. Our focus on hygiene has led to a design which is nice to look at," says Saad Mahmood, mechanical engineer at PJM.
He explains how the PJM team solved several unforeseen issues on the way with for instance vacuum pockets evolving between the boxes.
The solution was adding cylinders which help evaporating the vacuum before the lift, preventing faults.
The technological display was provided with a set of large manual start, stop and pause buttons to make iit easier for the daily operators to control simple routines.
For more advanced calibrating and programming, PJM has trained a group of expert users.
"It was a great and challenging project, and I personally hope to be working a lot with cobots in the coming years," says Saad Mahmood.
Sparing employees
PJM estimates that a new cobot solution can be developed in 2-3 months - without a supply chain crisis.
"Cobots have a great future ahead of them. It is already difficult for employers to recruit staff for these types of jobs. It won't be easier in the future," says John Bo Jakobsen.
More info on PJM robot solutions:
Fill in the form below or contact Head of Design & Engineering, John Bo Jakobsen: jbj@pjm.dk