2 min read
PJM expands production facilities with 2800 square meters
With an increased turnover of more than 30 percent over the past year, all extra space at PJM headquarters in Faarevejle has been occupied, and 20 engineers now work from mobile pavilions behind the parking area. A new and sustainable production unit is under its way.
In this blog post: A modern working environment with up-to-date facilities and efficient workflows will open its doors to PJM staff a year from now. The climate-friendly building enables PJM to deliver big-scale automation solutions required by larger clients like LEGO, Danfoss, Novo Nordisk, and Coloplast. With the investment, the company board has laid the ground for continued growth.
The groundbreaking ceremony for the expansion took place on November 16th, 2022. It was attended by CEO Benny Smith, representatives from the management team, and employees, as well as the entrepreneur, advisors, and the local community.
The project accounts for a total investment of 30 million DKK.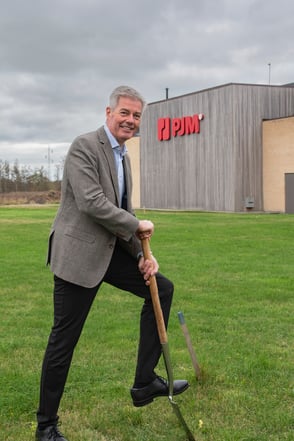 Core values
The new production unit establishes a modern and efficient working environment aligned with PJM's core values of cooperation and co-creation.
Engineers and designers are placed close to the coming assembly hall to strengthen the interaction between developers and machine fitters, giving easy access to continual testing and sparring.
The expansion consolidates PJM as a leading Danish supplier of unique automation projects and makes room for new innovative and space-consuming solutions.
"At the moment, we hardly know where to put new machines. Our order book for 2023 is quite full already," says Benny Smith.
Sustainable and climate-friendly
Finally, the project is a sustainable and climate-friendly solution with district heating, solar cells, and several charging stations for company cars, which will gradually be replaced by electric vehicles.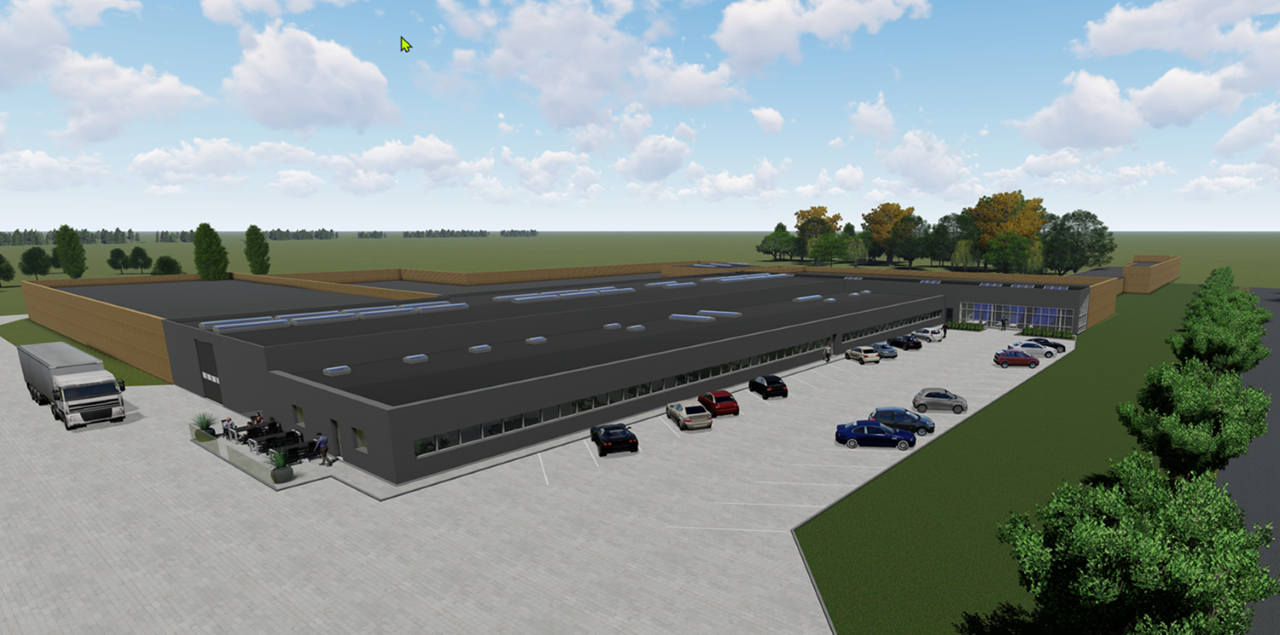 "We need to lower our carbon footprint and switch to green energy. This is also increasingly a requirement from our larger customers," states Benny Smith.
Part of the project is a new, small park with wildflowers, benches, and sculptures placed on a former fallow field. The park will be open to employees as well as local citizens.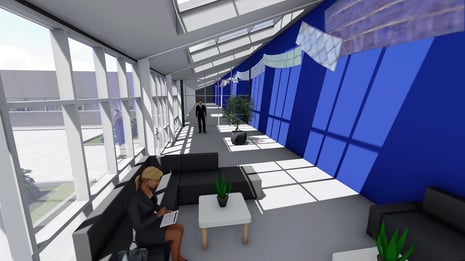 Appreciated by staff and locals, the 60-meter-long ceramic frieze placed on the southeastern gable will find a new home inside a walking hall.
When art becomes part of the company DNA
Local subcontractors
The main contractor for the building project is JD Byg from Braedstrup in Jutland. PJM also expects to use local subcontractors.
The coming 2800 square meters are divided between a 1,500 square meter assembly hall, 1,000 square meter offices, and a walking hall connecting the existing buildings with the new areas.
After the expansion, the company will be 12,000 square meters in total. PJM has a staff of close to 150, and more are expected to follow in the coming years.